The Northern Lights is the first novel of the trilogy
His Dark Materials
, written by Philip Pullman. It was first published in 1995.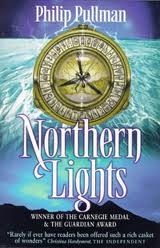 The novel was converted into a film called The Golden Compass in 2007.
This story is best read by teenagers and adults, due to it's dark storyline.
What it's About
Edit
Lyra Belacqua, is a 12 year old, who is given an alethiometer from the Master of Jordon Collage. The alethiometer works off of dust, which is all around the world and it is no ordinary dust.
When she finds out Mrs. Coulter is head of "The General Oblation Board" (The gobblers they're called from the children), she escapes the apartment and join the Gyptians to rescue the children from the Oblation Board.