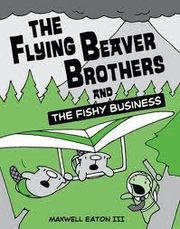 This Book Is the 2nd part to the flying Beaver brothers.
Age's 10 - 14.
This is one of my favourtie comics
The Penguins are Boss
So What's This Cartoon About?
Edit
Well this cartoon is about two twin beavers that fly (they don't) So the second part is not the same as the first so heres what a comic strip from this book looks like!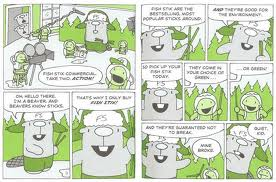 So anyways. Bub and Ace are in there house, Bob and Bob are staying with them when Bob and Bb make them pancakes (which were good) they step on a skatebored making it fly around the wall the it hits all off them pushing them all out of the second window. They are then saved by a tree near the house but becuase of all the weight Bob and Bob fall off. Ack! Ack Ack! (It's ok both of them live)
Then while Bob and Ace are then the tree they see this huge volcano. Ace wants to go check it out of course. So Bob and Bob made them a plane to go check out the volcano on so when they go on there little flying kit plane thing. They run into a factory where there are uprooted trees gonig to a grinder by accident they get lost looking at it they forget to pull up.
They hit a tree and go flying onto the machine. They get stuck in a uprooted tree while the uprooted tree that is heading towards the grinder! Then a worker named Gary comes and helps them even though he says they don't have a off switch becuase it could cut profits which is a werid thing to say. After Ace and Bub are okay then Gary shows them a video about fish stick's and gets rid of them.
Ths makes them more curious.