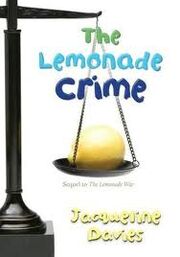 The lemonade crime is the second book to the The Lemonade Wars series
This about Revenge some serious revenge please read the first book or atleast look at the wiki The Lemonade Wars.
Age group is still 11-13.
This is a good second book but it's pretty short.
There is a Third book.
Whats It About?
Edit
This book is about the lemonade wars but the aftershock Evan Got the 200 dollars after he got it he went to hangout with 6 of his friends including Scott Spenser then they decided to go into the hot tub (Bad Choice) so Evan used someone else's swim suit and left his shorts and (money) in the bathroom. It seems the whole time Evan was lounging in there hot tub peacefully it never hit him (maybe my money is gone).
Jessie on the other hand was at home reading like always. Summer was ending in like 2 days and she hoped Evan used his money carefully which will not happen so back in the hot tub Scott Spenser suddenly says he's gotta go home early. So Evan and about 4 others all he him running out of the house suprisingly quick. Hmm.. Then Evan gets out of the hot tub and goes into the washroom and sees his underwear, shorts, and shirt everything normal. But wait. Where's his $200 dollars? Evan looks everywhere.
Gone.